Self clinching fasteners have many kinds of materials, can process stainless steel, carbon steel, stainless iron and other materials, and can meet various design requirements of customers. Our price is affordable, factory wholesale direct sales, the price is more favorable. Support non-standard customization, more personalized self clinching screws, tailor-made, can meet various design needs of customers. Dimensions without tolerance, precise matching. The self clinching studs produced are flat and burr-free, with a flat and smooth surface, high-quality workmanship, and are durable. The workmanship is precise, and the pressed teeth are evenly piled up. Kuowen is deep and complete, neat and clear. We have many years of industry production experience, one-stop professional processing and production chain.
Product Display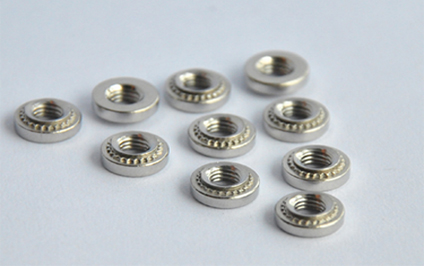 The manufacturing process of stainless steel rivet nuts usually includes the following steps:
Material selection: Choose high-quality stainless steel materials, such as 304, 316, etc.
Stamping: Stamping stainless steel materials into rivet nut blanks of a certain shape.
Cutting: Cut the stamped rivet nut blank into individual rivet nuts of the required specifications and quantity.
Polishing: Polishing the cut rivet nuts to remove burrs and oxide layers and improve aesthetics.
Testing: Conduct dimensional and performance testing on polished rivet nuts to ensure compliance with requirements.
Stainless steel rivet nuts have the following advantages:
High strength: Made of stainless steel material, it has high tensile and shear strength and can withstand large loads.
Corrosion resistance: Stainless steel materials have good corrosion resistance and can maintain stable performance in various environments.
Beautiful and generous: The polished stainless steel rivet nut has a smooth surface and a good appearance effect.
Easy installation: The installation of rivet nuts is very simple, just place them in the holes of the metal plate and rivet them with rivets or electric tools.
Wide application range: Stainless steel rivet nuts are suitable for connecting and fixing various metal plates, such as stainless steel plates, aluminum plates, steel plates, etc.