Pem Self Clinching Nut is an efficient nut fixing solution commonly used in thin sheet and thin wall construction. They are designed to create strong anchor points on thin materials by pressing in, squeezing or compressing them. The Clinch Nuts For Sheet Metal has an internal locking feature that ensures a stable connection under vibration or load.
Pem Self Clinching Nut has a variety of benefits, here are a few of the key ones:
1. Provides a secure connection: With an internal locking design, this nut provides a secure connection under a variety of vibrations and loads.
2. Avoid deformation of thin plates: Pem Self Clinching Nut does not require the rotation of screws or bolts during installation, thus avoiding the risk of deformation of thin plates.
3. No nut-holding tool required: No additional nut-holding tool is required during installation, reducing installation complexity.
4. Improve production efficiency: The quick and easy installation process can significantly improve the efficiency of the production line and reduce production costs.
5. Space saving: Due to its compact design, Pem Self Clinching Nut is able to complete connections in limited space, saving design space.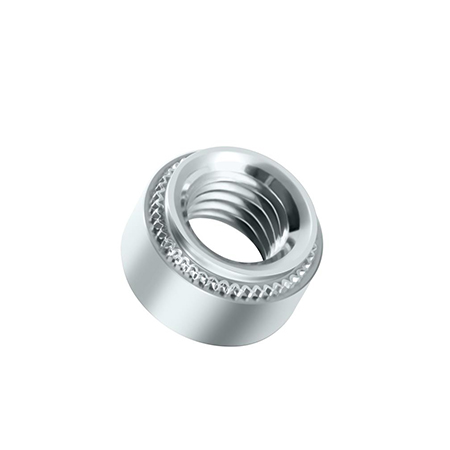 1. What Materials are Pem Self Clinching Nuts Suitable For?
Pem Self Clinching Nuts are versatile and compatible with various materials, including steel, stainless steel, aluminum, and plastic. This broad material compatibility enhances their applicability across different industries and engineering projects.
2. What Sizes are Available for Pem Self Clinching Nuts?
These nuts come in a wide range of sizes, accommodating different thread types and sheet thicknesses. This diversity in sizes allows engineers and designers to choose the appropriate nut for specific applications, ensuring a secure and precise fit.
3. Are Pem Self Clinching Nuts Reusable?
Yes, Pem Self Clinching Nuts are designed for reusability. Even after removal, they maintain their integrity and effectiveness, making them a cost-effective solution for applications where disassembly and reassembly are necessary.
4. What Industries Commonly Use Pem Self Clinching Nuts?
Pem Self Clinching Nuts find applications in various industries, such as electronics, aerospace, automotive, and telecommunications. Their reliability and ease of installation make them a preferred choice in manufacturing processes within these sectors.
5. Are Pem Self Clinching Nuts Resistant to Corrosion?
Pem Self Clinching Nuts are commonly made from corrosion-resistant materials such as stainless steel. This ensures their durability and performance in corrosive environments, making them ideal for applications where exposure to moisture or chemicals is a concern.
6. Can Pem Self Clinching Nuts Be Used in High-Temperature Environments?
Yes, Pem Self Clinching Nuts are available in materials that can withstand high temperatures. This feature makes them suitable for applications exposed to elevated temperatures, such as automotive engines or industrial ovens, where reliable fastening is essential even in extreme conditions.
7. What Tolerance Levels are Needed for Installing Pem Self Clinching Nuts?
Pem Self Clinching Nuts are designed to be installed within specific tolerance levels. Engineers and manufacturers must adhere to the specified hole size and sheet thickness recommendations provided by the nut's manufacturer to ensure proper installation and optimal performance.
8. Are Pem Self Clinching Nuts Environmentally Friendly?
Pem Self Clinching Nuts contribute to environmental sustainability as they reduce material waste. Unlike other fastening methods that might require additional materials, these nuts do not generate excess waste, making them an eco-friendly choice for environmentally conscious industries.
Tips:
To clean Pem Self Clinching Nuts, use a mild detergent solution and a soft brush to remove dirt and debris. Rinse with clean water and pat dry with a cloth. Avoid harsh chemicals or abrasive materials to prevent damage to the nut's surface finish. Regular inspection for signs of corrosion or wear is advisable, ensuring optimal performance and longevity of the nuts in various applications.
About us:
As a professional screw and nut manufacturer, we are committed to providing high-quality, reliable products to meet your various needs. Whether you are looking for standard specifications or a custom design, we can provide you with the most suitable solution. Please feel free to browse our product pages, and if you have any needs or special requests, please feel free to contact us. Our team will be happy to provide you with professional advice and assistance to ensure you get a satisfactory product. Thank you for choosing us and we look forward to providing you with quality service!