Crafted from high-quality materials, Pem Clinch Nuts exhibit exceptional strength and corrosion resistance, guaranteeing long-lasting performance in challenging environments. Their versatile application extends to various material thicknesses, making them an ideal choice for dynamic manufacturing environments where adaptability is paramount.
Innovative, reliable, and built for the demands of modern manufacturing, Pem Clinch Nuts exemplify a commitment to precision engineering, providing a foundation for secure and enduring connections in the ever-evolving landscape of industrial production.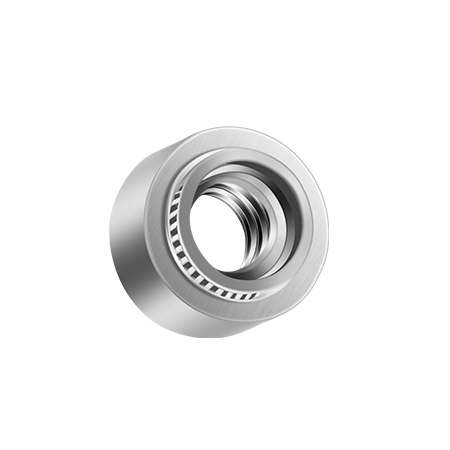 1. How does a Pem Clinch Nut work?
Pem Clinch Nuts work by utilizing a unique clinching feature, eliminating the need for additional hardware. They create a reliable threaded fastening point in sheet metal through a precise and efficient process.
2. Where are Pem Clinch Nuts commonly used?
Pem Clinch Nuts find widespread use in various industries, including electronics, automotive, and industrial manufacturing, providing a dependable solution for assembling components in sheet metal structures.
3. What benefits do Pem Clinch Nuts offer in assembly processes?
Pem Clinch Nuts streamline assembly processes by eliminating the need for additional fasteners. Their vibration-resistant design ensures a secure and durable connection.
4. Are Pem Clinch Nuts suitable for dynamic environments?
Yes, Pem Clinch Nuts are well-suited for dynamic environments, offering versatility across different material thicknesses and exhibiting exceptional strength and durability.
5. How do Pem Clinch Nuts contribute to cost-effectiveness?
Pem Clinch Nuts contribute to cost-effectiveness by simplifying assembly processes, reducing the need for multiple components, and enhancing overall operational efficiency.
6. Can Pem Clinch Nuts be used in electronic enclosures?
Absolutely, Pem Clinch Nuts are ideal for electronic enclosures, offering a reliable and space-efficient solution for creating threaded fastening points in sheet metal.
7. How are Pem Clinch Nuts installed?
Pem Clinch Nuts are installed using a clinching process, which can be done efficiently with the appropriate tooling, ensuring a secure and stable connection in sheet metal.
8. What sets Pem Clinch Nuts apart from traditional fasteners?
Pem Clinch Nuts stand out due to their clinching design, eliminating the need for nuts and bolts. This feature streamlines assembly, reduces parts count, and enhances overall reliability.